International Students Courses
The Academy of Arts & Design, Tsinghua University, formerly known as the Central Academy of Arts & Design, was established in 1956 and merged with Tsinghua University in 1999. The Academy has a long and distinguished history, a comprehensive set of disciplines, well-resourced teaching, research and experimental facilities and enjoys an excellent reputation both at home and abroad. Its discipline of Design was rated as A+, Fine Art and Art Theory were both rated as A- in the fourth round of academic evaluation by the Chinese Ministry of Education in 2017. Also, its Design discipline was included as one of the "first rate disciplines" in the Chinese Ministry of Education's prestigious "Double First-rate" list in the same year. In 2020, the Academy ranked 19th in the QS World University rankings for Arts and Design.
At present, there are 10 departments and a Basic Teaching & Research Group covering 20 undergraduate programs. The Academy has the authority to confer doctoral degrees in the three arts disciplines of "Design", "Fine Arts" and "Art Theory". The faculty is highly qualified and includes a large number of influential artists, designers and scholars who are active leaders in domestic and foreign disciplines. The Academy has established friendly exchange relationships with over 60 well-known universities in the United States, Britain, France, Australia, Japan and other countries, and dozens of international and domestic experts and famous scholars are invited to China to teach courses every year. The Tsinghua Arts and Design Institute in Milan (ADIM) was officially founded on April 17th, 2018. It serves as an important hub in Europe for the art and design departments of Tsinghua University to cultivate international talent. By integrating global educational resources, ADIM will provide students with interdisciplinary, cross-regional and cross-cultural learning, researching and internship opportunities. ADIM builds excellent learning conditions and environments for cultivating innovative talents with global competence and the challenges of globalization.
Tsinghua University has been committing itself to equipping students with a solid knowledge foundation, academic excellence, good personal qualities, innovative thinking, global vision, as well as a strong sense of mission and social responsibility, helping students to achieve their full potential while also encouraging development of individuality. Bearing these goals in mind, the Academy of Arts & Design has always been working to deepen the reform of education and teaching. Through cultivating innovative artistic talent with an international mind, ambitious dreams, skills to meet the needs of the times and a strong sense of responsibility, the Academy strives to establish itself as a world-famous academy of fine arts.
Undergraduate Programs of Academy of Arts & Design for International Students
This admission information is only applicable for foreigners who wish to study undergraduate courses or attend advanced studies in our academy.
Click for Admission Information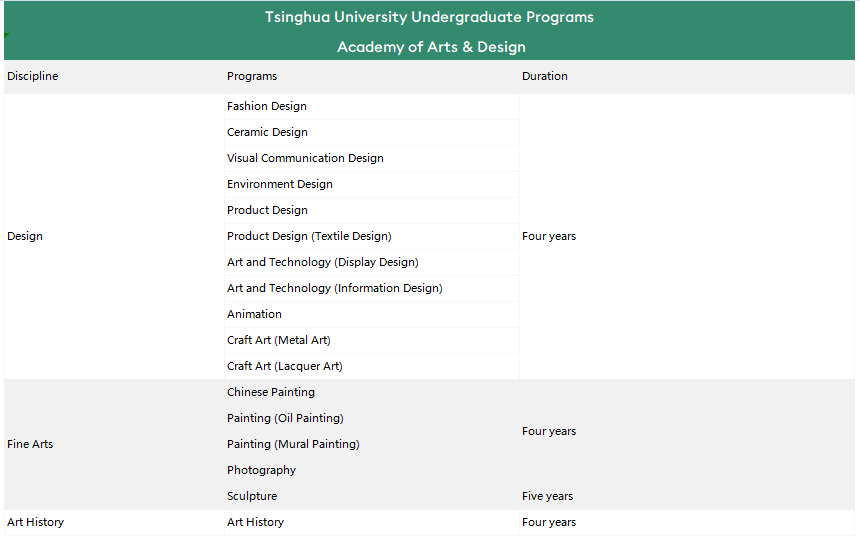 Master's and Doctoral Programs of Academy of Arts & Design for International Students
For international candidates for a master or doctoral degree, please contact the International Students' Office of Tsinghua University.

Click for Admission Information